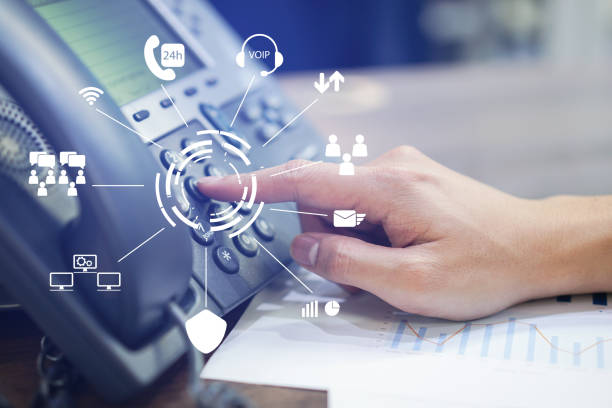 There are both direct and indirect cost savings when businesses switch to VOIP. Indirect costs come from the lowering of data carriage costs and the ability to use existing network capacity.
VoIP phones can be used on your computer with a softphone app or any mobile device with internet connectivity. This flexibility allows you to take your calls with you wherever you go without incurring expensive long-distance fees.
Lower Monthly Bills
Most businesses are now eager about VoIP systems and switching to see significant savings in their monthly phone bills. This is largely because calls are made over the Internet, which can be cheaper than calling via a traditional landline. Another big saving comes from not having to pay for long-distance charges. Because a call is coming from the Internet, not a telephone line, there are no extra charges for long-distance calls.
Finally, the best VoIP providers will let you keep your existing phone numbers when switching over to a hosted VoIP system. This will allow you to save time by not having to notify all of your customers and clients that your number has changed.
Reduced Maintenance Costs
If you use a VoIP service that a professional technology solutions provider backs up, you can access expert advice and support to ensure your setup stays secure. This is vital to reducing the likelihood of expensive issues that could be costly to your business in direct and indirect costs. Moreover, VoIP allows you to cut the cost of your lines per user and even replace your existing PBX system with a software-based system that can do the same job for a fraction of the price. This includes automatic call distribution, voicemail to email transcriptions, and missed call texting. Lastly, your VoIP phone system can save money by improving the customer experience.
Less Hardware Needed
With the pandemic and people working from home more than ever before, VoIP's call forwarding, auto-attendant, group ringing, and other features make it possible for employees to still work effectively from home. This boosts employee productivity and helps reduce overhead costs like utilities and office space. In addition, hosted VoIP services typically don't require you to have any expensive hardware equipment. You need a stable and reliable Internet connection. You can also use your current phones or upgrade to IP devices with more advanced and high-quality features. Before switching to VoIP, you should check how much bandwidth your Internet can handle.
More Features
VoIP can provide a cost-effective solution if your business wants to use mobility features, such as mobile calling or conferencing. All that's needed is a stable internet connection, and most VoIP providers will port over your existing landline numbers at no extra charge to ensure there isn't any disruption to calls. The advanced call management and productivity benefits of VoIP, including auto call answering, voicemail transcription, integrated contact databases, and more, can help improve your organization's efficiency. This can reduce costs and enhance communication with your clients and prospects.